06.06.2020 - 13.06.2020
beach.bites.beats zrce.eu Event Spring Break Saison
Join beach.bites.beats: Party at Zrce, jump into the cristal clear sea and stay in the beach.bites.beats villa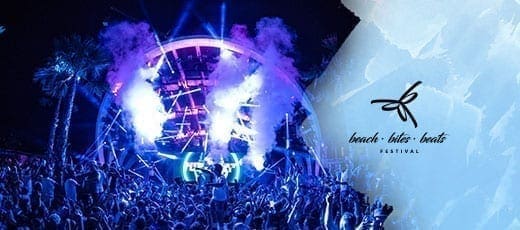 The beach.bites.beats resort festival 2020 / 4th edition
Travel to croatia with your favourite DJ! Live with him in the same mansion und celebrate the best pool partys. Rock the best clubs of the world at Zrce Beach and enjoy the best time of the year! A total of 6 mansions with private pool, 6 international DJs and 4 of the best clubs in the world!
Festival infos
Festival overview
| | |
| --- | --- |
| 👔 Organizer | Zrce.eu (Zrce Clubs) |
| 🚩 Locations | Papaya, Aquarius, Noa |
| 🎶 Music | EDM |
| 🚦 Rating | ⭐⭐⭐⭐⭐ |
| 💶 Price | 💲💲 |
Lineup
Le Shuuk, Vol2Cat, Fabian Farell, Oliver Magenta, DJ Olde, Jaden Bojsen, Luke&Tobe, Nic Johnston, more TBA
You want to come for Spring Break, but the time period doesn't fit for you?

3 weeks - 3 festivals! The spring break season at Zrce Beach takes place for 3 weeks!
If you do not have time to come at the time of this festival, check out our alternatives, where you can also celebrate with 100% Spring Break Feeling at Zrce Beach!
Zrce.eu rating ⭐ ⭐ ⭐ ⭐ ⭐
Beach.Bites.Beats goes into round 4. At this festival of a special kind you can live in a mansion together with the DJs. The festival takes place during the spring break season and promises the best and most exuberant party atmosphere. Our clear recommendation for your party summer 2020 at Zrce Beach.
booking
The Beach.Bites.Beats Festival takes place every evening in one of the large open air clubs on Zrce Beach and in Novalja. Here you have free entrance with your festival ticket. The price at the Anbendkasse is at least 20% more expensive than the festival ticket in advance. With the festival wristband, you do not have to queue at the cash desk and receive coupons and perks for drinks and other events. In addition, the event can be sold out on site.
Searching Availability...
Timetable
Samstag / Saturday 06.06.2020
Cocomo Club // Beach Bites Beats Welcome Party
Sonntag / Sunday 07.06.2020
Noa Beach Club // Lineup TBA
Montag / Monday 08.06.2020
 Papaya Club // Lineup TBA
Dienstag / Tuesday 09.06.2020
Cocomo Club // 90's Party
Mittwoch / Wednesday 10.06.2020
Cocomo Club // Special Ladies Night
Donnerstag / Thursday 11.06.2020
Papaya Club // Lineup TBA
Freitag / Friday 12.06.2020
Noa Beach Club // Lineup TBA
Beach.Bites.Beats 2019
At Beach.Bites.Beats you could live in a big mansion with pool with Vol2Cat, Fabian Farell, Oliver Magenta, Mark Bale&Roger Horton, DJ Olde, Sandro Farago & Defierro for 7 days.
About Beach.Bites.Beats
#DJHouses
Travel with your DJand share a mansion with your DJ for one week. Have the summer of your life.
The DJ houses has several apartments and they area all equipped with a private pool. The perfect combination for one week of full party and also the opportunity to relax.
#BBBFESTIVAL
The beach.bites.beats festival offers you every day a unique program. In the morning you can relax at the pool together with the DJs. Later  in afternoon you can party together at the legendary After Beach Partys at Zrce Beach. In the evening you continue partying in all 4 clubs at Zrce Beach with a special atmosphere.
We're happy to welcome you in a few of the best beach clubs of the world.
Zukünftige Zrce Events
am gleichen Veranstaltungsort:
1
2
>