31.05.2018 - 03.06.2018
recommended TOP festival TOP Lineup
Enter into this years festival season with the best Spring Break at Zrce Beach and party with people from all around the globe!
WOW! – What a great opening!
We finished the first big festival at Zrce Beach and want to say thank you for unforgettable and amazing 3 days!
At the first evening we welcome Mike Candys & Fabian Farell. Both did a great performance! The second evening we had an germany vs. austria battle with David Puentez & Rene Rodrigezz. At the last day we had a special Papaya All Star night, where every Papaya Club Resident DJ played. They perfectly rounded off the Big Beach Spring Break Festival!
We're happy if we can welcome you again in 2019!
The Big Beach Spring Break 2019 will take place from 30.05. – 01.06.2019.
Then we will celebrate the next big opening of Zrce Beach festival season!
Watch our first recap video of Big Beach Spring Break 2018:
First pictures of Big Beach Spring Break 2018:
Apart from the Tickets (regular or VIP Tickets) we have in-expensive packages including accomondation. And special prices for groups! Journey with your own car or with our (party)bus from Vienna, Munich, Stuttgart, Prague, Salzburg and other cities. The closest airport is Zadar.
Festival overview
| | |
| --- | --- |
| 👔 Organizer | Papaya Club / Zrce.eu (Zrce Clubs) |
| 🚩 Locations | Papaya, Cocomo, Backstage Club |
| 🎶 Music | House, EDM, Mash-up |
| 🚦 Rating | Saison Opening + Spring Break Party ⭐⭐⭐⭐⭐ |
| 🎧 Line-up | more than 10 interantional DJs and Resident DJs |
| 💶 Price | 💲💲 |
Lineup 2018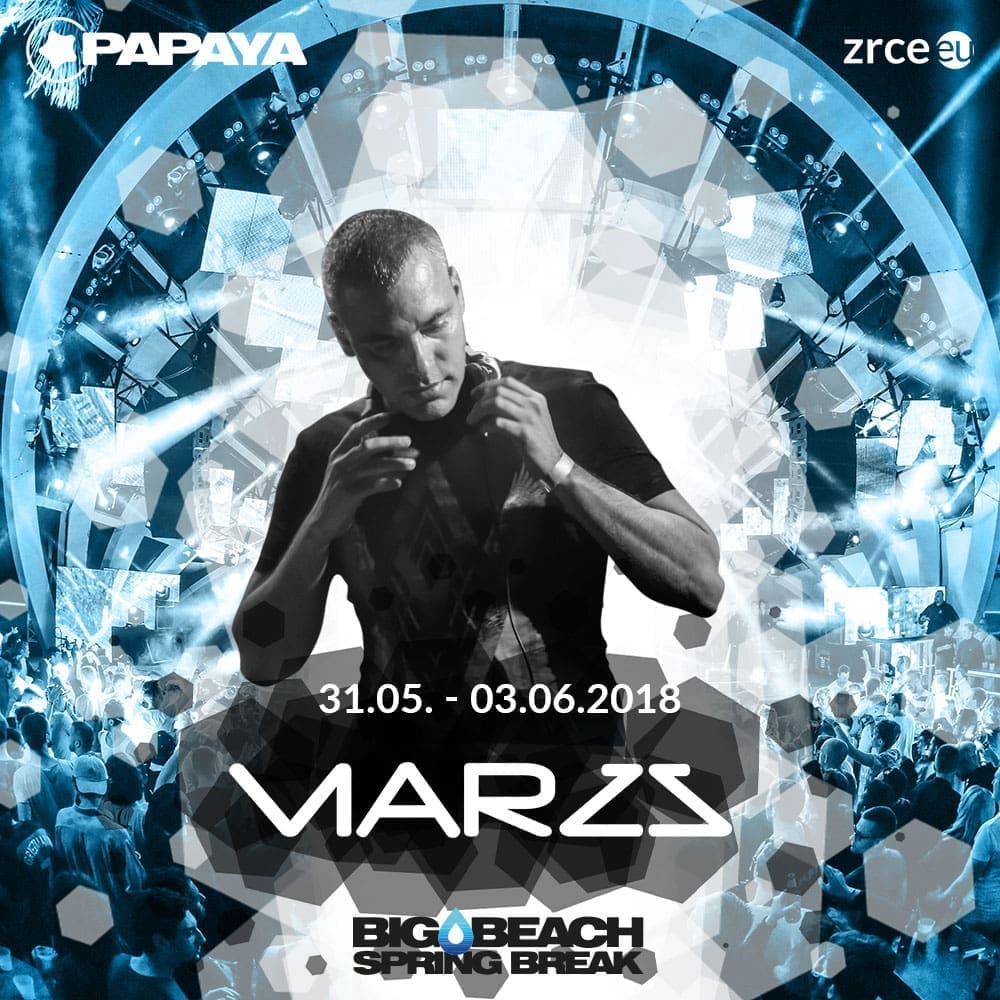 Mike Candys, Fabian Farell, David Puentez, Chris Montana, Marzz, Rene Rodrigezz, Sheko, Trevon
Zrce.eu rating ⭐ ⭐ ⭐ ⭐ ⭐
It will be the third event of BBSB in 2018. The feedback of the last two events were absolutely amazing. BBSB 2018 is the perfect event for a long party weekend! BBSB is our recommendation for your spring break!
Booking
Searching Availability...
Pictures and impressions from Big Beach Spring Break 2017
Pictures of the second event of Big Beach Spring Break 2017 ! The biggest Opening Event at Zrce Beach 2017.
Timetable
Donnerstag 31.05.2018
Euer Anreisetag
Freitag 01.06.2018
Euer Anreisetag
Samstag 02.06.2018
Euer Anreisetag
Sontag 03.06.2018
Abreisetag. Bis zum Big Beach Spring Break 2019
Mike Candys to appear at Big Beach Spring Break 2018
Swiss DJ Michael Kull AKA Mike Candys is set to appear at Big Beach Spring Break in 2018! The popular DJ, originally known for "LA Serenissima", will be the headline act at one of the most popular Spring Break destinations in Europe. His style evolving since his career breakout in 2008, the top-10 European artist will bring his electro-dance style to Zrce Beach in Croatia, where he might give us a taste of his chart topping hits such as "One Night in Ibiza" – which has brought him fame on an international scale. With his most recent single, "2012 (If The World Would End)" fast becoming his most popular, Mike Candys continues to go from strength to strength and is going to be a sure-fire hit for one crazy Spring Break celebration. Get to the Papaya Club for Spring Break, this is one party that you are not going to want to miss!
Last year: Sick Individuals were there in 2016 and 2017
Dutch electronic music and DJ-craft duo Sick Individuals have been producing fresh, innovative sounds since 2010, when their shared interest in music and its manipulation drove them to exercise their creative force together. Their early work is plainly influenced by Daft Punk, but with its own sharp original tang underscored in every track. Since those early days, the pair have worked with many world renowned artists, among them Avicii, Rihanna, David Guetta and Flo Rida, and their treatments of these musicians' songs have come to be celebrated as separate and uniquely wonderful experiences of their own. Standing in suspense at a Sick Individuals show in between tracks, the whole crowd leans in and waits with bated breath, only to breathe a collective joyous sigh of relief and fall back into the wild dancing that Sick Individuals's music provokes in even the meekest of their attendees. Rising and falling in poetic swoops and dips, the beauty of the music of Sick Individuals lies in its careful precision; every note and beat has been carefully, thoughtfully placed exactly where it needs to be to make the audience's hearts pound in progressively speedier, deeper rhythm, building up in ecstatic, empathetic suspense, and then be left hanging off the edge of a musical cliff for just a moment before the music crashes back into them and they roar and flail in unison. That contagion of movement is absolutely the product of the conscientious production of these two very talented young men, who, at this point, have only barely gotten themselves started on the path they are walking.
Future Zrce events
at this location: